October 31, 2022 @ 8:00 am

-

November 28, 2022 @ 8:00 pm

Free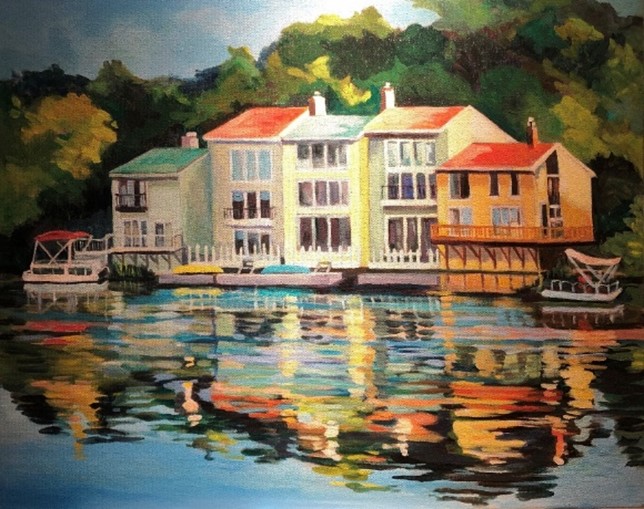 Serendipity IV
An Exhibit from Nine Area Artists
October 31 – November 28 • Jo Ann Rose Gallery
Reception: Sunday, November 13 • 1:00 p.m. – 3:00 p.m.
Serendipity IV synthesizes the work of eight artists – Regina Adams, Karen Danenberger, Margot Lebow, Julia Malakoff, Joanne Roberts-Wittauer, Ruth Sievers, Melanie Z Stanley and Marie Georgette Wright – who met through various art venues. Together their art encompasses the bold and colorful, the abstract and eclectic, the meditative and cathartic. The styles and media they work with are as diverse as the women themselves. Visit the Jo Ann Rose Gallery during November and come to the opening reception on Sunday, November 13 from 1:00 p.m. – 3:00 p.m.
---
Regina Adams is a mixed media artist and voice teacher in Reston. In 2015, Regina took first place in the Mixed Media division of the Piedmont Regional Art Show in The Plains, Virginia, and began watercolor studies under Christine Lashley. She broadened her scope to include other genres, meeting area artists and RCC art instructors Jane Ross and Karen Danenberger, who have been invaluable teachers and mentors.
Regina launched Songbird Voice Studios in 2015. "I am on a mission to empower women and girls by helping them connect to their creativity through song." With the studio now in full swing, Regina enjoys creating art whenever she isn't busy teaching music. Vintage finds, patterns of all kinds and a lively palette form the basis for Regina's inspiration. Her style can be described as a nod to the past mixed with a quest for adventure.
---
Karen Danenberger received a BA in studio art from Smith College in 1974, did graduate work at Edinburgh University in Scotland in 1975, and earned a MA in painting from NYU in 1979. Through NYU's Summer Abroad Program, Karen was able to spend two summers in Venice, Italy, where water reflections and the emotive qualities of color first became central themes in her artwork.
Many of her paintings still feature the images and feelings generated in scenes depicting water. Karen has more than 30 years' experience in art instruction at all age levels and is a teacher of oil and acrylic painting for adults at the Reston Community Center. She is also an active member of the League of Reston Artists.
---
Margot Lebow has been painting since the age of 8. In the 1970s she studied at the School of Visual Arts in Manhattan and was influenced by artists from the Minimalist-Conceptualist art movements. At a later stage, she discovered the Merz paintings of German artist, Kurt Schwitters, and these became the ultimate influence on her style.
She has been developing this unique style of collage and mixed media in Europe and Egypt for the past 30 years. Her home is now in Reston. She has exhibited in various public places, including the Gallery at Queens College, New York, Morgana Gallery, Cairo, Egypt, and in private collections in the United States and abroad.
---
Julia Tova Malakoff's mixed media paintings, inspired by nature and everyday objects, are vibrant and uplifting, telling stories through texture and tone. "Nature encourages me to take a closer look at our world, bringing to light the subtle and whimsical moments." Bold bursts of color push through shaded foliage; vivid imagery from our daily lives, layered against cool and calm. Julia is currently writing a children's picture books and teaches a mixed media art class, Make Your Mark at the Workhouse Center for the Arts in Lorton, Virginia.
---
Joanne Roberts-Wittauer's earliest creative memories are seeing all the colors of crayons in the Crayola box. "I would scribble and change the colors freely, exploring so many possibilities on paper" she says. Twenty years ago, when her husband began his wine import business, Joanne started painting as they traveled throughout the US and in Europe. She describes herself as an abstract expressionist painter. "I am self-taught although I consider my father to be my first and most influential teacher – I learned many techniques and lessons while watching him paint."
Joanne looks to artists like Picasso, Hoffman, Matisse, DIebenkorn and Richter for inspiration and motivation. "Today I am still playing each time I create, except my medium of choice is acrylic paints on canvas. I just choose the colors and get started creating and playing along the way." Her work is available and exhibited in restaurants, retail stores and other places in the US and abroad.
---
Ruth Sievers is a painter, collage artist and photographer. While she pursued a career in writing and editing, working for Washington, DC, nonprofits and the U.S. Copyright Office, she has always tried to find time for art. She studied with Joe Shannon at the Corcoran for several years and for many years with Diane Tesler and other Art League instructors. Her favorite subjects are people, especially friends and family, and others in public places.
Ruth holds a BS from the University of Maryland, with a major in journalism. She has a studio with the Columbia Pike Artists in Arlington, Virginia.
---
Melanie Zucker Stanley says "my parents were a huge influence on my art. My mother was a singer and painter while my father was a musician, filling our home with a flow of creative vibrancy." To create a rich glow in her art, Melanie uses hand-painted rice papers to help build layers and textures and colors. She also works with water-based paints, drawing tools and mixed media. If asked what her style is, she would answer "Bright, luscious COLOR and TEXTURE!"
She is a Resident Artist at The Wine Cabinet in Reston and at Arts Herndon. Her artist group FAB8 paints together at Art Herndon. Melanie is a member of the Art League-Gallery 75 (Torpedo Factory), the Reston League of Artists and Artists in Middleburg (AiM). She has been teaching fine arts for many years to children and adults in local galleries, in her home, and via Zoom. She has written and published six children's books. "I enjoy creating art … and inspiring others to find their artistic voice!"
---
Dorian Traynham is currently focusing on the garden life cycle through acrylics, watercolors and mixed media, while continuing to explore the complex and sometimes fragile balance of modern societal growth that unfolds outside her studio window.
Dorian spent more than 30 years teaching art in public schools and continues to work in the community with everyone from young students to adults. She graduated from Louisiana State University with a BFA in art. Later she completed another bachelor's in arts education from The Ohio State University and masters at the Savannah College of Art and Design with an emphasis in painting.
---
Marie Georgette Wright. "I paint what I love. The small things that make me happy – a little slice of nature, an animal, colors of the sun, my family – all have found their way onto my canvases." While working in a stained-glass studio in San Diego, Marie was introduced to the luminescent power of transparent color and light.
After moving to the East Coast she worked with Hudson River Valley artists, where she found the joy of transparent watercolor washes. Later, through classes with prominent local Virginia artists, she added acrylics and mixed media to her palette. "My paintings frequently feature bits of tissue and rice papers imprinted with impressions of leaves from my garden and other embellishments. The colors of my life are a crazy quilt of bits and pieces, and so it goes with my art."
Contact: Gloria Morrow, Exhibit Coordinator