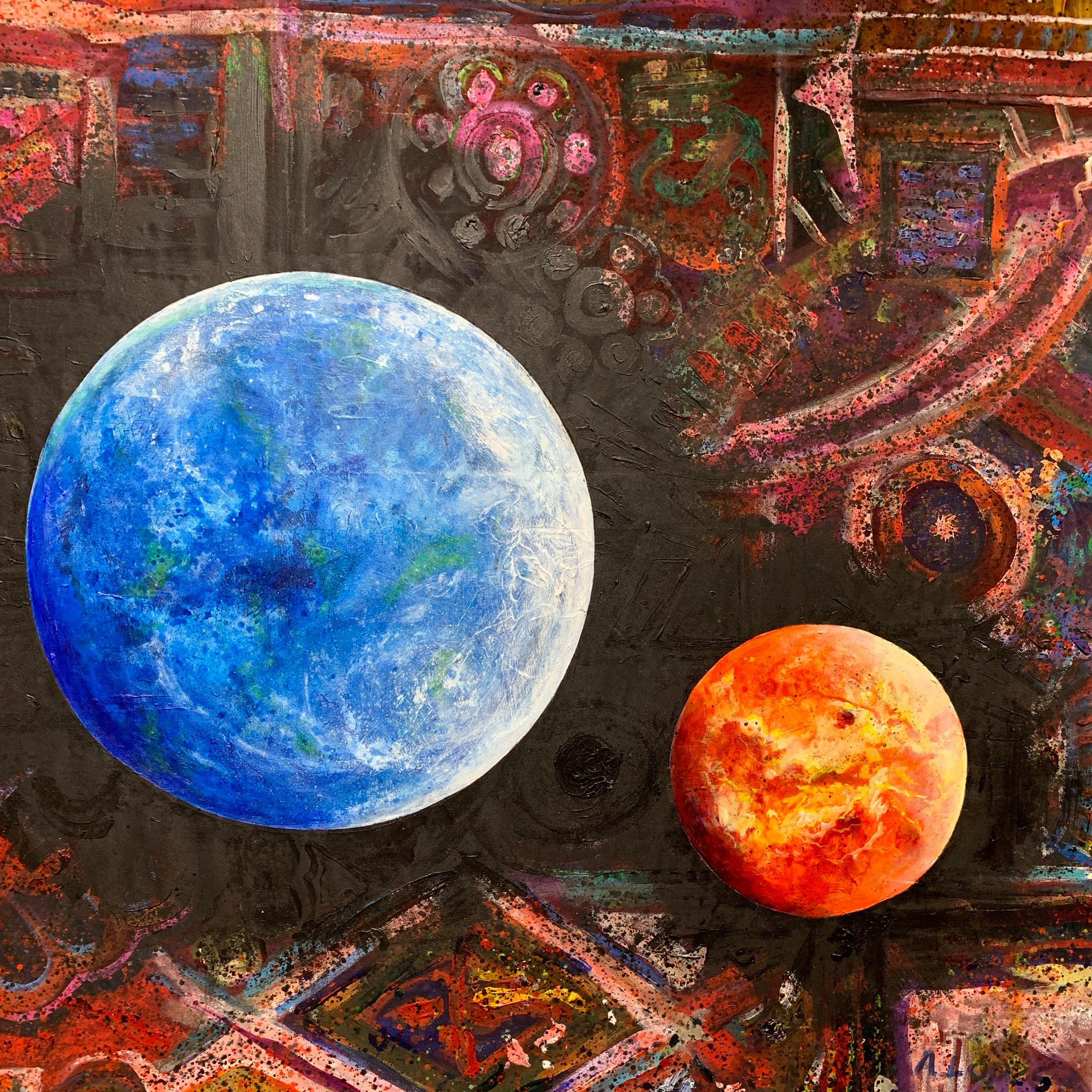 TIME AND SPACE REPURPOSED
Dates: July 24 – August 21, 2023 • Jo Anne Rose Gallery
Reception: Sunday, July 30, 2:00 p.m. – 4:00 p.m.
Art by Arnold Lopes and a Few Reston Friends: Selemon Getachew, Theresa Hosinski, Touran Mahdaviazar, Marthe McGrath, Deirdre McGuire,
Ann Millard, Karen Olive, Tim Waters and Glenn Zora
---
Arnold Lopes. The "Mona Lisa" followed Leonardo da Vinci wherever he went. Off and on and now and then he worked on it. Arnold says that he has this vision of da Vinci pulling Mona out from under his bed to work on her and then in frustration shoving her back under, muttering to himself, "Can't get that stupid smile right." The painting was in da Vinci's possession on the day he died as court painter for Francois I, the king of France.
Over the years Arnold has accumulated a host of paintings that follow him wherever he lands. "They take up space on my walls, fill my closets to bursting, with quite a few stacked up under my bed." Lately, in semi-retirement, he has found time to ponder them. In a way, he says, "this is a show of life repurposed."
Arnold's passion for astronomical discovery began as a kid fascinated by images of planets, moons, and stars on the covers on science fiction paperbacks. He began buying them for 25 cents each, to sketch and draw the covers. Born in the Hawaiian Islands. In the museums and libraries of Hawaii and California, Arnold was drawn to artists like Rene Magritte, Salvador Dali, Roger Dean, Hieronymus Bosch, Michelangelo, Kelly Freas, and Frank Frazetta. He earned an art degree from the University of Hawaii in 1998. An expert framer, skilled painter, and art teacher extraordinaire, Arnold's many art classes at Reston Community Center Lake Anne were filled with admiring students. He now lives in West Virginia, but we are betting he will be back!
Selemon Getachew is a Reston-based mathematician masquerading as an oil painter. Born and raised in the highlands of Ethiopia, Selemon has had a lifelong relationship with visual arts that is shaped by the ancient history, tradition, and landscape of his homeland. While working towards his Ph.D. in mathematics at Brown University, Selemon painted on the side while enrolled in their Visual Arts Department courses.
Selemon believes that pure mathematics is essentially art with a theoretical medium — where elegance and beauty trump utility and where the driving obsession is the pursuit of the simplest underlying structure behind reality. After a long hiatus from painting, Selemon was motivated to restart after joining the thriving art scene at the Reston Community Center. He continues to paint actively in his backyard studio. Selemon's works are currently not for sale because, he says, "the buyers would have to surrender to him their house keys to allow him to continue to rework the pieces indefinitely!"
Theresa Hosinski
I am a painter and a poet
I paint portraits of rockstars who don't know it
Take a look at my artwork
And you will see
A little bit of me
Marthe McGrath, an artist based in Reston, Virginia, has been painting daily for over a decade. After a long, successful career designing area rugs for select residential and commercial clients, the transition to fulltime painting came naturally. "I keep both my life and my art playful and free. I fearlessly create mostly abstract art with a modern flair," she says. Global travel experiences influence Marthe's bold and richly colored canvasses. Her process utilizes many media types like acrylics, oils, collage and mark-making tools.
Marthe is a juried member of TFAA (Torpedo Factory Artists Association) and many other local and national art groups. Her work can be seen at Touchstone Gallery in Washington D.C. or by visiting her website www.M2artist.com.Her studio in Reston Art Gallery (RAGS) at Lake Anne Plaza was established in 1964. "I enjoy welcoming visitors from around the world. The opportunity to meet and get to know collectors of my work is wonderful."
Touran Mahdaviazar An immigrant from Iran, Touran was inspired by the wonder and beauty of colors in nature to draw and paint at a very young age. Most of her notebooks and textbooks were covered with her drawings. With no formal education in art, she has used her natural abilities to create works that hang in the homes of friends and family bringing them peace and joy. Now In retirement, she has more time to devote to her art, including taking classes as Reston Community Center with Arnold Lopes and others. Her favorite paintings still relate to nature.
"When I start a new painting, I am in a different world where I cannot hear or see anything around me and I do not realize the passing of time," Touran says. She hopes to inspire a new generation to pursue their talent, inspiration, and passion. 
Deirdre McGuire Deirdre has spent her professional career in theatre design and teaching in New York and California where she designed scenery and costumes for more than 200 productions of theatre, dance, and opera. After retiring to Lake Anne in 2012, she took advantage of the Community Center facilities to pursue her interests in sculpture and painting. She has enjoyed the fellowship of our local artistic community and has just joined the League of Reston Artists.
Ann Millard is an accomplished acrylic and mixed media artist who now resides in Asheville, North Carolina having spent many years participating in art classes and exhibits at the Reston Community Center. She studied art at George Mason University and art therapy at George Washington University. Ann was inspired to translate her viewing experience of the documentary "Monster Black Hole" to the creation of collage images.
Her abstract collages portray her visual impression of the dynamism of "black holes." "Scientists and non-scientists alike have recently become awed by the demise of space debris and explosive stars, millions of light years away that disappear to the point of no return within the black hole. Black holes of monstrous size decimate all that reach their enormous expanding edges, causing light to disappear, even swallowing galaxies," Ann relates. The collages in this exhibit display Ann's imaginative view of this phenomenon with "stuff" from the universe in various stages of demise, splintering giant fragments of matter, (some of human origin) and swallowing the debris of the universe.
Karen Olive was born in Pottsville, Pennsylvania, and lived in Chicago for over 20 years. Visiting and taking classes at the Art institute of Chicago developed her love of art. She has won awards for her photography work and one of her pieces was exhibited at the Chicago Architectural Center and published in the Chicago Tribune. "Earning an associate degree in architectural technology at age 40 convinced me that I could draw," she says.
She has been taking art courses at Reston Community Center for over 10 years. "During that time, Arnold Lopes was an inspirational teacher for me," Karen says. "I use acrylics to portray the bold, vibrant color and fantastical shapes of astronomical phenomena. Celestial images inspire me with awe. I try to capture the beauty and mystery of space in my works." She teaches high school mathematics to support her life as an artist.
Tim Waters is a retired Information Systems Engineer and software programmer and has lived in Reston for over 40 years. Born and raised in New York City, he has been creating art in acrylics, oil, chalk pastels, charcoal, and graphite for 10 years. He also creates mobiles out of paper, recycled plastics, and aluminum wire. Tim's archenemy is watercolor.
Glenn Zora is an engineer by training, having worked for the U.S. Navy for 35 Years and retiring in 2011. "I took my first art class, Acrylics for Beginners in the fall of 2017 and was immediately hooked." Glenn enjoys working in acrylics. "It is a forgiving medium and allows me to paint over my many mistakes." Arnold Lopes provided the impetus for Glenn to attempt to paint on the clear plexiglass sheets. He has also worked in other mediums most notably soft pastels, and he occasionally dabbles in oil pastels and colored pencils.