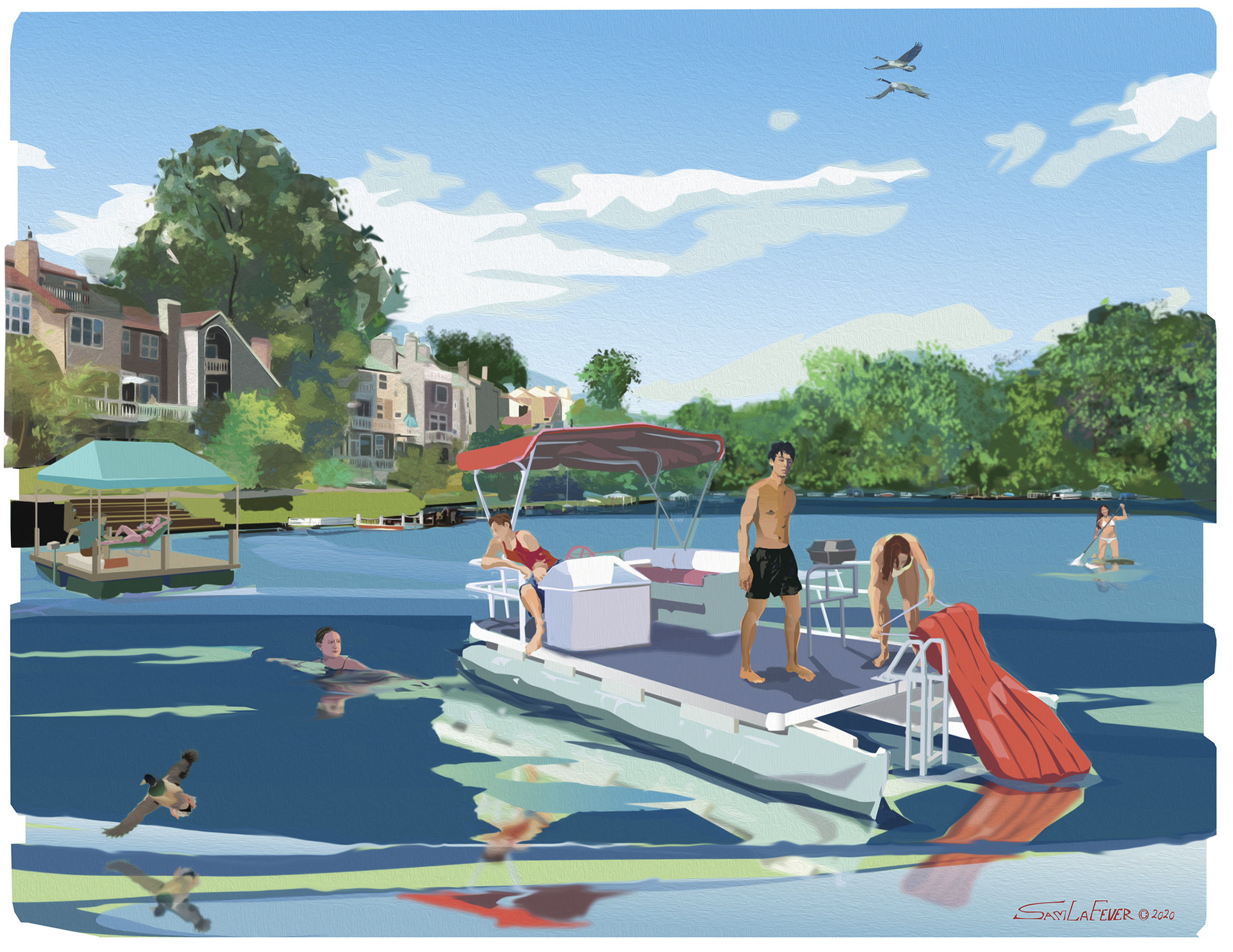 The Lake Life Series
Digital Serigraph Limited Edition Prints Reflecting Life on Reston Lakes By Sam LaFever 
 Sam LaFever is an accomplished artist. He is also a tugboat Captain inspired by the view from the wheelhouse while working routes between Maine to New Orleans. His exhibit at Reston Community Center Hunters Woods in July and August is closer to home. "The Lake Life Series" displays digital serigraph limited edition prints reflecting life on Reston lakes. 
LaFever's work is shown locally and regionally at galleries in Richmond, Portsmouth, Norfolk and Annapolis. His focus is broad; landscape painting, printmaking, seascapes, watercraft, industrial themes, architectural waterfronts and city front scenes along waterways in mediums like oil, watercolor, Itaglio printmaking, lithography, and graphic design. 
"My current work reflects the waterfront I know. Tugs, sailing craft, light houses, waterfowl, city fronts, and classic watercraft have always commanded my attention and piqued my interest," Sam states. 
Much of his art consists of constructing digital works using the Adobe Creative Suite of products to make art in layers of colored shapes. The process is similar to the manner in which a serigraph is composed of layers of color applied over one another-some opaque, some transparent. 
"I call this process "Digital Serigraphy", or "Digital Serigraph." The style is reminiscent of the "Fruit Crate Art" of the late 1800's. The process of layering color, as in creating a serigraph or "silkscreen" print is well suited to creating prints digitally. Reducing a composition to its light, color, and structural elements provides a very clean aesthetic and an interpretive approach to creativity." 
Current Galleries:
Main Street Gallery, Annapolis, MD
Skipjack Gallery, Portsmouth, VA
Harbor Gallery, Norfolk, VA
Crossroads Art Center, Richmond, VA